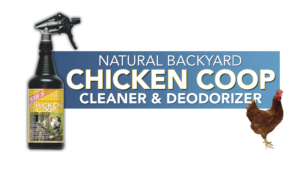 Chicken manure is very high in nitrogen content, a factor which leads to the emission of high concentrations of ammonia. As a result, toxic concentrations of ammonia can build up in coops. MICROBE-LIFT/CCC&D helps to remove the generation of ammonia from waste, improving bird health & reducing maintenance.
MICROBE-LIFT/CCC&D incorporates the action of stable, highly-active microbial cultures specifically selected for rapid uptake of ammonia ions with nontoxic ingredients that capture typical odors associated with chicken waste & litter.
Specific Benefits
Eliminates ammonia odors from chicken manure
Improves conditions for better health
Accelerates breakdown of litter & waste
Increases nutrient value of litter for compost

Efectivo en todo tipo de desechos de pollo.

Conveniente para aplicar simplemente rociando directamente sobre todas las superficies y basura

Utiliza microbios naturales y neutralizadores de olores patentados para mantener un ambiente más limpio y saludable en las cooperativas y patios

Seguro para los usuarios, las aves y el medio ambiente.

El producto es fácilmente biodegradable.
Tamaños
Gal (3.785 L) Jarra con bomba

32 oz.

(946 mL) Pulverizador